I'm selling my Army L85 AEG for $110. Along with the gun comes two high cap magazines (these are M16 mags basically) and of course the battery. Oh and who doesn't love the amazing custom paint job that Andrew did for me. The feel of the gun is very similar to my TM Aug and so if I can sell it I can start looking for another weapon.
When I get a gun I like to know about every little detail and so here is my honest description of the gun. I would describe the gun as a solid and accurate weapon. I got it to use as a secondary weapon for friends and visitors to our group. This is a good entry level gun for someone who is interested in getting into the sport but doesn't want to fork out a lot of money yet. It has been very dependable for me and I've only ever had one problem with the gun. It got stuck on full auto once and the person borrowing went through about 50 bb's before pulling out the clip which stopped the gun. Which goes to show that it has a good rate of fire. The gun doesn't like being put on single fire because if you don't pull the trigger all the way back the mechanism likes to get stuck. I've always played with it on full auto and a controlled trigger finger and had no problems.
Post or PM me if you are interested. I'll put up a picture of the clips later tonight if I remember (even though Jimmy has one of them).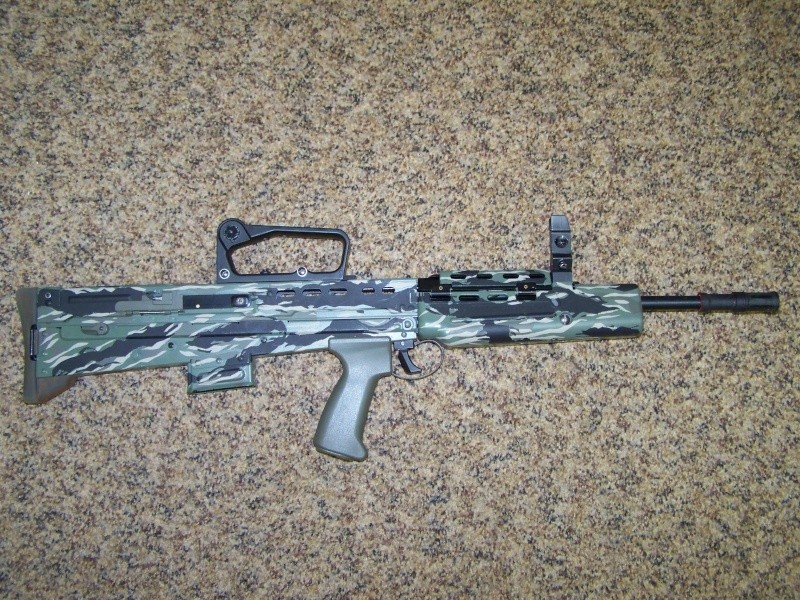 Last edited by Donknottz on Sat May 01, 2010 7:38 pm; edited 1 time in total
Update on the gun offer.
At first I was hoping to sell this so that I could buy Epic's Thompson. Then I got the hospital bill and babies are expensive. I've teetered on the fence with this decision for a long time and I am now moving forward with it. From now on I am going to be a one gun guy. So the sooner I can get rid of this the better because until it is sold it is going to collect dust. I'm not going to lend it out anymore as hopes for motivation. That's right, I am trying to motivate all of you who have had friends who have either
borrowed
from myself or any other players. It is time for them to invest in their own gun.
So if you or someone you know is interested in this gun, make me an offer. If it is a fair offer I will take it.
While I am posting about sales I am hoping to make a trade as well. Since I will be moving down to one gun I don't need my giant gun case. It has safely protected my two guns for many years. It is a hard shell case that easily fits two longer styled guns, spare batteries, clips, and other various items on its cushy innards. If you are interested in having a larger case for your gear and are willing to trade for a smaller carrier I am willing to do that. Or just $20 for it and I will buy a new one.
I'll take you up on the case.
Gamble Mercenaries




Age

: 27


Location

: CVA - Gamble Mercenaries



Here are the two high capacity clips and the battery. Using the chronometer I averaged a FPS or 290 with .25 bbs. Sorry that I couldn't do it with .20's. I just don't have any lying around.
Airsoftgi
posts that it is 300-350 out of the box. That feels about right as I shoot the gun. It has a good rate of fire, but it is by no means the highest rate i've ever seen, just average.
Here's a review about the gun
. I tried uploading a video but it didn't work. If you have any questions let me know.


does it fit a 9.6v battery? small type
CVA




Age

: 23


Location

: North Logan



Everything has been sold.

Sorry I didn't notice the question. I've only ever used the mini type batteries. It is a pretty snug compartment.


Similar topics
---
Permissions in this forum:
You
cannot
reply to topics in this forum